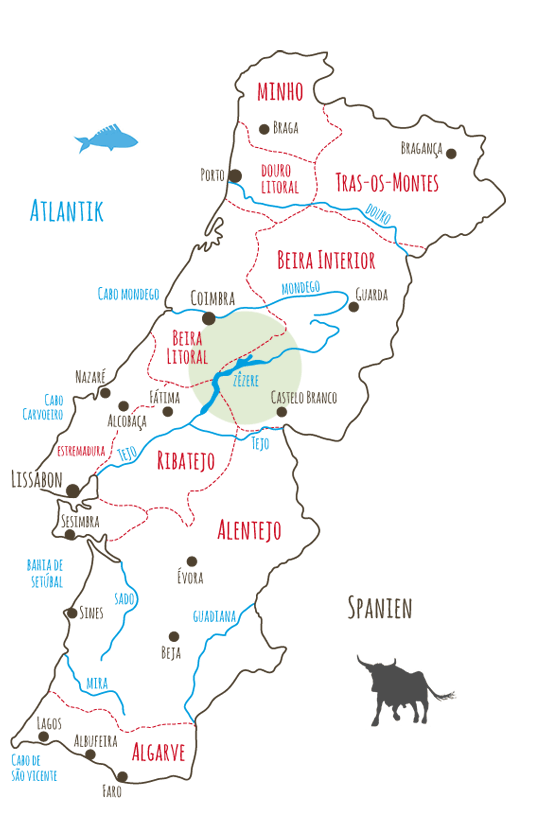 Situated in the geographic centre of Portugal, this region rejoices in green hills, forests, streams and lakes. The little villages and hamlets are very quiet and sleepy. The village population is largely rural folk who grow fruit, vegetables, olives & grapes for winemaking. Many have livestock.
The local supermarket and cafe is often the centre of the village. Fresh products such as bread, vegetables and fish are still delivered to your door. In addition, national and international supermarket chains such as Pingo Doce, Mini Preço, Intermarché and Lidl have made their way into the province, so the choice is quite varied.
Infrastructure
Considering how rural it is, this part of central Portugal is well provided with services and amenities. Some villages have a store or cafe and it's never far to a little market town, with most of what you need.
Also, each parish has a colourful weekly market selling fresh fruit and vegetables, fish and meat, clothes, household goods and livestock.
The larger towns in this area: Pedrógão Grande, Figueiro dos Vinhos, Sertã and Alvaiazere have all the usual facilities: schools,  weekly markets, shops, builders yards, restaurants, post offices, banks, doctors, dentist, pharmacies, retirement homes, churches, bus stations, sport centres & museums.
Thanks to EU funding everyone and everything is connected by excellent roads.
The closest train stations are in Pombal and Coimbra, and timetables for connecting buses can be found at: http://www.rede-expressos.pt/
Climate
Portugal has a temperate maritime climate, affected by the Atlantic, with Continental and Mediterranean influences. It varies somewhat according to the altitude and proximity to the ocean.The summers are hot and the winters can have cold and frosty nights  with sunny days or be warmer and very wet. The only thing you can say with some certainty is that from June to September it is mainly hot and sunny.
Politics and Economy
Politically we have two groups sharing the field: the Social Democrats (PSD), and the Socialists (PS). The mayors of each district town (in this area Pedrógão Grande, Figueiró dos Vinhos, Castanheira da Pêra and Sertã) all have their own budgets and are pretty autonomous, meaning certain rules and regulations can vary greatly from municipality to municipality.
Economically the whole region has been dependent on the EU. In the past 20 years large sums have been invested in infrastructure, mainly: roads, schools, water and sanitation, sport centers, football stadiums & parks.
Medical 
There are a large number of private health practitioners and the cost of an excellent private consultation is approx 70€.
You can always go to the local state run "Centro de Saude". You will pay the same fee as the Portuguese and may have to wait a while.
All of the larger towns in the area have well trained and equipped dentists, with prices comparable to the UK.
There are several hospitals in the area and the main hospital for specialist treatments is located in Coimbra 70 kms away.
Culture and Entertainment
The Portuguese love their 'festas' and most towns and villages will host their own. You can expect a varied selection of carnivals, bands, local crafts and artisans, street food and music to the early hours!
Considering the beauty and tranquillity of this area of Central Portugal, it is not spoilt by tourism; travellers are still able to get a taste of the real Portugal. It is little known, still relatively undiscovered and the area has some stunning scenery and countryside. The reservoirs of Cabril, Santa Luzia and Castelo de Bode are large blue lakes surrounded by remarkable scenery, perfect for walking, cycling, mountain biking, watersports or fishing. Detailed information is available at the Tourist Office in Pedrógão Grande. The area enjoys the reputation of having the cleanest air in Europe.
The idyllic forested Rio Zêzere lake is 60km long (up to 120m deep) is one of the largest freshwater reservoirs in the Iberian Peninsula with good fishing (smallmouth bass, trout, perch and carp). It is suitable for water sports and ideal for bathing and swimming. There are regular fishing competitions and you can rent boats and kayaks form the Club Nautique, Pedrógão Grande, at reasonable rates.